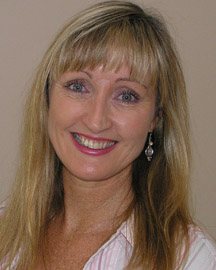 Sandy Forster was born in Melbourne in 1959, and grew up spending her summers camping along the Victorian coast. When she was fifteen, her parents took the family travelling around the world for almost a year, before returning to Australia and settling on the Sunshine Coast.
Sandy left school in Year 11, and soon decided that teaching aerobics was much more fun than working nine-to-five. When she found it difficult to buy suitable leotards, Sandy began designing and manufacturing her own.
After ten years and a divorce, Sandy found herself $100,000 in debt, with two small children to support on a $15,000 a year government benefit. When she increased her income to over $150,000 she thought her money worries were over, but a lack of money management skills and the right mindset meant that she once again lost everything. This led Sandy on a tireless search to understand money, prosperity and abundance, and how to make it flow, grow and multiply.
Sandy co-founded Wildly Wealthy Women to share what she had learnt about the secrets of attracting wealth through the power of the subconscious mind. This was followed by WildlyWealthy.com, which currently has tens of thousands of people from over 88 countries learning her success strategies through live tele-classes, workshops, seminars and her international best-selling book How to Be Wildly Wealthy FAST.
Sandy has written or contributed to four books, shared the stage with such giants of personal development as Mark Victor Hansen (Chicken Soup for the Soul), been featured in a number of Dr Wayne Dyer's books and audio programs, appeared on national television, and speaks to audiences around the world.
Sandy lives on Queensland's Sunshine Coast where she loves watching sunrises, early morning walks, relaxing with her children and having fun with friends.